Henri de Toulouse-Lautrec.
Though his life was short, Henri de Toulouse-Lautrec's artistic legacy resounds today. His dramatic and innovative style was perfectly suited to commercial pursuits. In fact, his poster designs, with their strong outlining and bold use of color, are so impactful that they have become cultural icons. The artist's infatuation with lithography led to the creation of well over 300 original prints and 30 posters which are still considered "state of the art" after a hundred years.
Henri de Toulouse-Lautrec came from an aristocratic background, having been born the son of an earl. Even as a schoolboy, he showed a talent for drawing, covering every paper and book margin with subjects he knew, mainly farm animals, horses and riders. At 14, his family arranged for him to take lessons from animal painter Rene Princeteau in Paris. By this time, already, he had suffered two riding accidents which eventually left him crippled for life.
At the age of 18, he made the final decision to stay in Paris and study art seriously. He found lodgings in Montmartre and mingled with its denizens, honing his craft among like-minded contemporaries, among them were Leon Bonnat, Fernand Cormon, Louis Anquentin, Emile Bernard, as well as Degas and Van Gogh. He became a frequenter of the cafes, cabarets and brothels of the neighborhood, drawing from them inspirations for his artistic themes. Among his early patrons was Aristide Bruant, a rough hewn entertainer who owned the Mirliton, one of Toulouse-Lautrec's favorite haunts; Bruant 3exhibited his work, published some of it in his magazine (also called Le Mirliton), and later gave him poster assignments. As the artist's stature grew, he found other magazines eager to publish his work, among them La Revue Blanche, L'Escarmouche and Le Rire. His subjects continued to be the types he came in contact during his rounds: many of them anonymous loafers, street girls, vendors and the like, but also some of the famous music hall artists who became his friends, such as the singer Yvette Guilbert, can can dancers Jane Avril and La Goulue, stage stars May Milton, Yahne, May Belfort and many others. In 1896, he published a collection of lithographs, Elles, with scenes from the local brothels. He became absorbed in the night life of Montmartre until he himself was an indispensable part of it.
From the beginning his drawings showed an herring eye for catching facial characteristics, expressions and mannerisms with deadly accuracy and yet with the most sparing means, a few lines, a carefully chosen perspective, or an imperceptible emphasis that focuses our attention.
In 1891, Toulouse-Lautrec was greatly impressed with Pierre Bonnard's France Champagne poster and decided to investigate the potential of lithography. Working with Bonnard's lithographer Ancourt, he learned the craft from the bottom up - and within months, brought it to an unprecedented artistic zenith. He managed to cram some 400 lithographs into the remaining ten years of his life, 31 of which were posters, and all of which were the cream of graphic design. His masterpieces define the limits of poster style: where Cheret epitomizes a completely external, impersonal viewpoint, Toulouse-Lautrec is the embodiment of internal, personal vision with a point to make- not, to be sure, a moral judgement, but rather an amused, wry observation on the passing scene.
Virtually all posterists then and since have had to make their stance somewhere between these two poles. True, some may have tried a satirical bite more vicious than Lautrec's or a neutrality even more profound than Cheret's but none could surpass the sheer mastery of their pioneers. The best proof is that a century later, their work still sparkles with all its force, inventiveness and beauty, and each in his way is more popular than they ever were in their own lifetimes.
Debauche.
1896. Original lithograph. Hand signed in black crayon. Also bearing the artist's monogram in the stone. Edition of 100. 11 1/16 x 15". SOLD.
Troupe de Mlle. Eglantine.
1896. Original lithograph. Signed on the stone with the artist's script signature and monogram. 24 1/4 x 31 1/2". SOLD.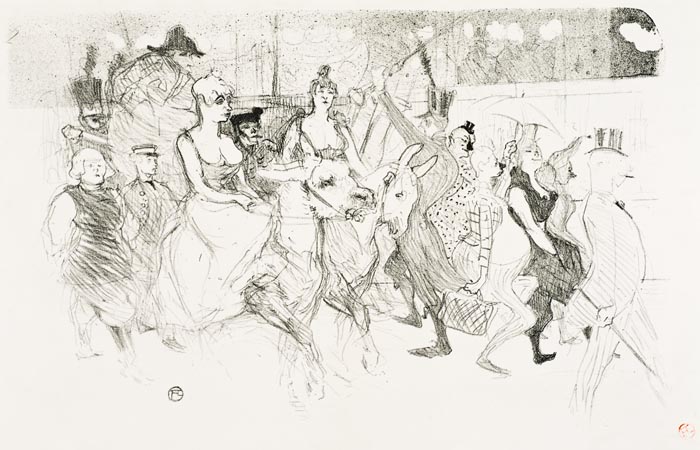 Une Redoute au Moulin Rouge (A Gala Evening at the Moulin Rouge).
1893. Original lithograph printed in black ink on wove paper. Signed with the artist's monogram stamp in red ink lower right. Also signed in the stone lower left. From the edition of 50. 22 x 15".
Carnaval.
1894. Original lithograph. Hand signed in pencil. From the edition of 100.
L'Argent.
1895. Original lithograph. Programme pour L'Argent. Signed in the stone. 12 1/2 x 9 5/16".
Judic.
1894. Original lithograph. Signed on the stone with the artist's monogram device. From the edition of 100. 14 7/8 x 11".
Moulin Rouge. La Goulue.
1898. Original lithograph. Maitres de L'Affiche. 12 15/16 x 9 1/8".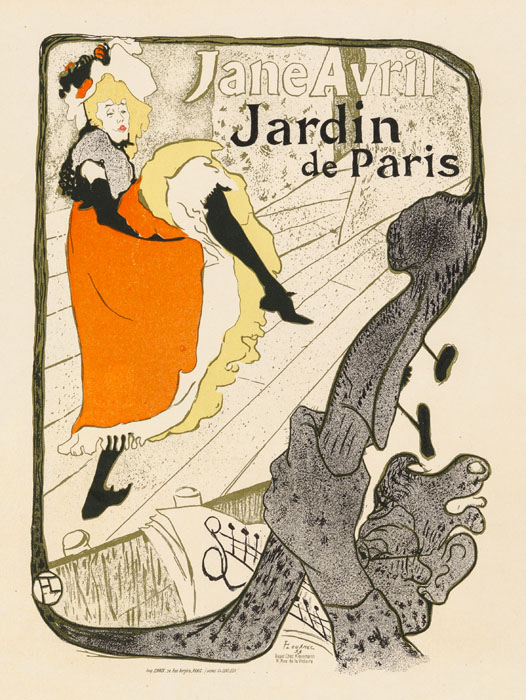 Jane Avril.
Original lithograph. Maitres de L'Affiche. Pl. 110/256.
La Chaine Simpson.
Original lithograph from Les Maitres de L'Affiche.