CHRISTOPHER SCHULZ.
Sharks function as the white blood cells of the ocean's ecosystem and have shaped our marine ecosystems since before dinosaurs walked the planet and even pre-exist trees. Reductions in large predatory shark populations would result in cascading changes throughout the entire ocean ecosystem which would cause severe consequences for an environment which, among other vital ecosystem services, ultimately produces over half of the oxygen we breathe.
Sharks face a number of threats worldwide, including a variety of human impacts including bycatch and recreational trophy fishing but the number one contributor and the main driver of their decline is the demand for shark fins and, particularly, shark fin soup. This "delicacy" is a status symbol used to convey wealth in predominately Asian cultures. But practically every country with a coastline is involved with the global trade of shark products which also includes shark meat, shark cartilage supplements, shark liver oil (squalene) in cosmetics, pet food, and shark skin. A staggering figure of 2-3 sharks are killed every second, 70-100 million every year, and at this rate, many species populations will go extinct within our lifetime.
90% of shark populations have been decimated. Survey counts and data collected on pelagic research dives are consistent with the observed declines in shark populations around the world. Data indicates population declines at state and federal water lines, with a particularly sharp decline in the abundance of silky sharks which have practically disappeared. Whale sharks are endangered and great whites are vulnerable. Sharks are rapidly declining almost everywhere they are still found, the Pacific, Mediterranean, Atlantic, Gulf of Mexico, and across predatory fish communities worldwide. We are only beginning to fully understand the impact of these dramatic declines and the consequences they will have for future generations.
Sculptor Christopher Schulz's eye catching, beautiful works of polished stainless steel depicting the Tiger, Leopard, Bonnethead, Bullhead, Blue and Hammerhead sharks enclosed in cages highlight these sad facts. Through his work, Chris is making the statement that these incredible, vital animals that are thought of as predators, have now in fact, become the prey.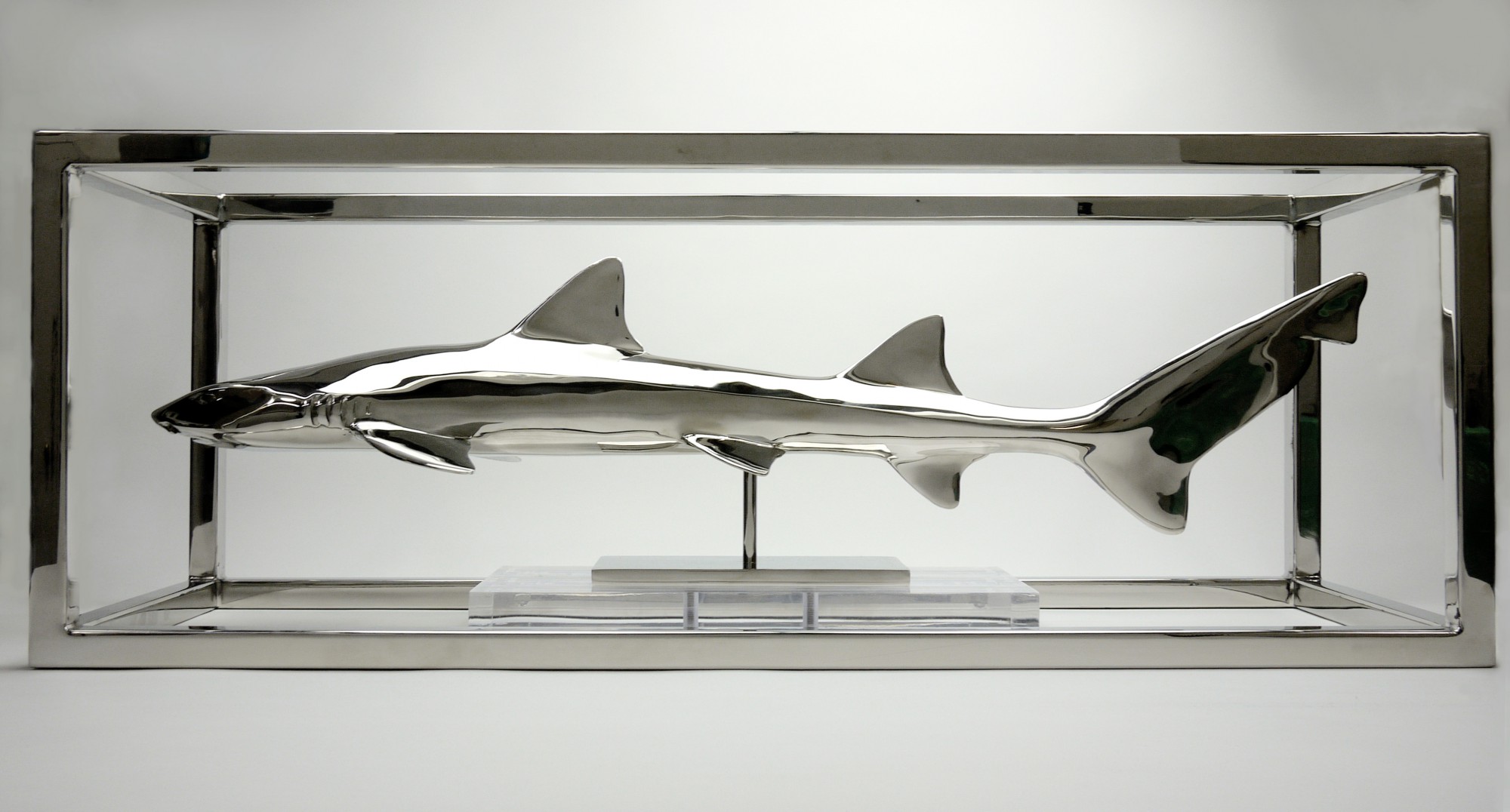 Study for Captivity (Tiger Shark).